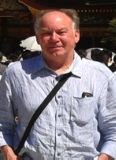 Prof. Philip T Moore
School of Information Science and Enginering, Lanzhou University, China
Prof. Philip Moore obtained a First-Class Honors degree (B.Sc. Hons) in computing with artificial intelligence with the award of a Masters degree (M.Sc.) in computing (Internet applications) at the University of Central England in Birmingham, United Kingdom. Following the M.Sc., he has been awarded a Doctor of Engineering degree (Ph.D.) by the Graduate School of Engineering at Fukuoka Institute of Technology, Japan for the development of a novel generic context-processing algorithm for the delivery of personalized services in intelligent context-aware systems.
He is an experienced construction professional and is a qualified quantity surveyor, an experienced contracts manger, project manager, and has experience in building design. He is experienced in project planning and building design. He is Chartered Builder and a full member (MCIOB) of The Chartered Institute of Building.
He has been appointed to the position of Master Supervisor and Adjunct professor at the School of information science and Engineering, Lanzhou University, Lanzhou, Gansu. P. R. China and is a Guest Professor at Shandong Normal University, Jinan, P.R. China.
His work addresses intelligent context-aware systems in diverse domains including e-Healthcare (health monitoring systems) and e-Learning and engagement with semantic data representation including ontology-based context modeling.